Home
-
Services
-
ERP Goal Setting & TCO
ERP Goal Setting & Total Cost of Ownership (TCO)
ERP Goal Setting
ERP Goal Setting is one of the first tasks to be done before the start of the ERP Project Implementation. This would help organization to set its goals and proper budget for the ERP project implementation.

ERP goals are to be drafted to ensure that there is a clear definition and understanding of the business value that the ERP project is intended to deliver. These benchmarks become the baseline metric for all decisions made regarding the design, execution of business processes and implementation of the ERP solution. With clear goals, the chances for a smooth implementation will increase and return on an ERP investment will be optimized. For the success of any ERP implementation the company should be aware of the business objectives.

ERP project road map should be defined with the clear functional & technical business requirements to meet the present & future objectives of the organization. These requirements should be prioritized in terms of Mandatory Requirement & Wish List, so that the focus is on the mandatory requirements and we keep the Wish List away from the ERP project implementation scope. ERP project goals for management, business & IT would be Strategic, Operational & tactical. These goals should be Identifiable, manageable and tangible, so that it is measurable at the end of the ERP project implementation.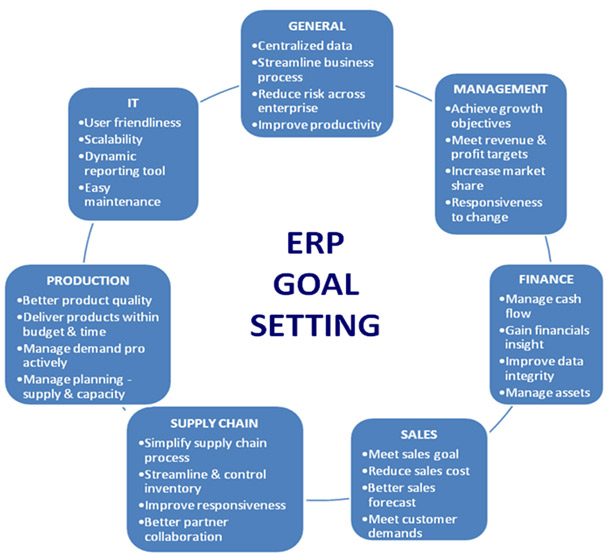 ERP Total Cost of Ownership (TCO)
Total Cost of Ownership (TCO) is the total cost (initial & recurring) of Software, Services, Infrastructure & Resource, Miscellaneous & other related factors for the successful ERP project implementation. TCO has to strike the right balance between cost-efficiency and the fulfilment of business requirements.

Business alignment of ERP solution is key for TCO. Lower TCO and higher value are achieved by considering the complete life cycle of ERP solution & aligning the ERP solution's design and ongoing costs with key business metrics. Making IT costs clear to the business users upfront, facilitate better decisions about allocating resource, reducing total cost, and ensuring better alignment of IT investment and business value. Globally it is proven that organizations with ERP Center of Excellence (COE) drive better TCO numbers than those without a COE. COE help organizations leverage, build, retain in-house talent & core knowledge for deploying critical skills across the business and limit dependency on external resources post ERP Implementation project. Other COE benefits include greater consistency; maximum reuse of solution investments; increased opportunities to share lessons learned across organization; simpler maintenance of data & process standards; increased ability to recognize & correct IT solution challenges.

Simplified, standardized, unambiguous solutions are the best and lowest-cost way to support the organization's business objectives. Solution complexity is defined as the increasing number of components or the degree of modification / customization applied to a standard ERP solution. Solution complexity, often cited as the greatest cost driver, increases directly the TCO.
Key factors influencing TCO
Company Size & Structure
Profile & Number of ERP Users
Depth & Breadth of ERP functionality to be deployed
Business benefits to gain from ERP deployment
ERP Goal Setting & TCO – Project Methodology